The Lyster Firm Law Offices: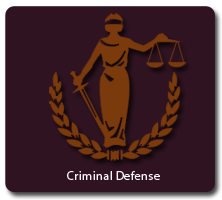 WE SPECIALIZE IN HELPING GOOD PEOPLE OUT OF BAD SITUATIONS
If you or someone you care about has been questioned by the police or charged with a crime, the consequences can be terrifying and devastating. A criminal conviction can include jail or prison time, large fines and a mark on your record that can have a serious impact on your reputation, and plans for the future. You cannot afford to lose your case. You deserve a criminal defense attorney who will fight to protect your future.

One of Chicago's most respected criminal defense attorneys, Todd Lyster, has earned a reputation for providing high quality, aggressive legal representation in Chicago and Illinois, by providing his clients with the highest standards of diligence, knowledge and professional advice, and by steadfastly protecting his client's constitutional rights. Whether a client is seeking a Federal criminal defense attorney or an Illinois criminal defense attorney, Todd Lyster treats each client's situation with attention and importance.
Criminal Law in Illinois
Over 30 Years Experience
Tough ~ Smart ~ Trustworthy


State & Federal Court
All Felonies & Misdemeanors
Internet & White Color Crime
All Drug Charges
Sex Offenses
Weapon & Gun Charges
All Serious Traffic Offenses
Drunk Driving
Orders of Protection






DRUNK DRIVING:
Free DUI case evaluation
Talk to US before pleading guilty.
FELONY CHARGES:
To speak with US about felony charges, call:
312-855-0875
Arrested? Act Fast!.
If you think that you may be in legal trouble, contacting the lawyers at the Lyster Firm, is one of the best ways to protect your rights. Getting lawyers involved in your criminal defense case early — even before charges have been filed — can give you the best possible chances of success. Your lawyers will focus on preventing the police and prosecutors from violating your rights. They may even be able to stop charges from being filed at all.

Quite often, a successful outcome in a case can depend on how fast legal motions and subpoenas are filed. At the Lyster Firm Law Offices, we focus on taking quick action for our clients. Our phones are answered 24 hours a day and we urge people to contact us immediately when they think something may be wrong.
YOUR RIGHTS
You have the right to remain silent. If you wish to exercise that right, say so out loud.
You have the right to refuse to consent to a search of yourself, your car or your home.
If you are not under arrest, you have the right to calmly leave.
You have the right to a lawyer if you are arrested. Ask for one immediately.
Regardless of your immigration or citizenship status, you have constitutional rights.
YOUR RESPONSIBILITIES
Do stay calm and be polite.
Do not interfere with or obstruct the police.
Do not lie or give false documents.
Do prepare yourself and your family in case you are arrested.
Do remember the details of the encounter.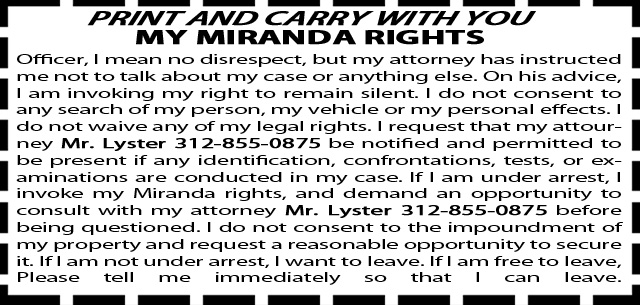 Being charged with a crime can be a terrifying experience. The charges you are facing can be complicated and you may not understand the penalties they carry. Often just the stress of being accused can effect normal mannerisms in a way that can be associated with dishonesty or guilt. Securing the representation of a skilled and experienced criminal defense attorney, will ease some of those concerns allowing you the confidence it takes to come across as the good person you are.
Protect your rights and your future. Our tough and experienced attorneys will give you the confidence you need to deal with the challenges of being charged with a crime.
At The Lyster Firm Law Offices, tough and experienced criminal defense attorneys with decades of experience in Illinois State and Federal criminal courts strive to get you back to your normal life, reputation intact. Attorney Todd Lyster has served the LGBT community for over 30 years and has the level of experience in the courtroom it takes to achieve the best possible outcome.
If you are facing criminal charges, take action to ensure your rights are protected. Turn to the Law Office of Todd Lyster. We provide our clients with an aggressive and effective defense. To schedule a free initial consultation,
call 1-312-855-0875 or simply contact us online.


Web Site Disclaimer: None of the information on this website should be considered legal advice. The law in Illinois is constantly changing and although we do our best to keep our website current, you should not make any final determinations based on what you read here. By contacting us or any lawyer that you are referred to through this website, you have not created an attorney-client relationship. The only way to establish an attorney client relationship with us or any other Illinois lawyer is through a signed retainer agreement in which you agree to hire the lawyer and they agree to work with you as a client. The advice that you receive from us should be taken in general terms. If you have questions about anything we offer or anything related to our website please call us at
1-312-855-0875.



---

---


Member Criminal Law Committees:
Illinois State Bar Assocication

|
Chicago Bar Association